Published 05-28-2007
archive_story.php?a=46991


Sullivan steps back to the days of Shrek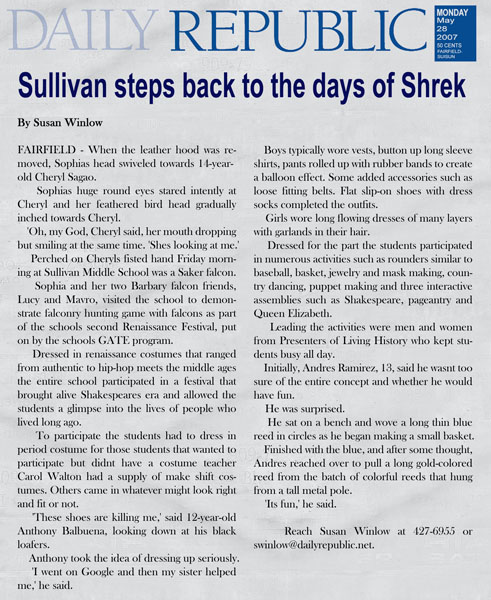 By Susan Winlow

FAIRFIELD - When the leather hood was removed, Sophias head swiveled towards 14-year-old Cheryl Sagao.

Sophias huge round eyes stared intently at Cheryl and her feathered bird head gradually inched towards Cheryl.

'Oh, my God, Cheryl said, her mouth dropping but smiling at the same time. 'Shes looking at me.'

Perched on Cheryls fisted hand Friday morning at Sullivan Middle School was a Saker falcon.

Sophia and her two Barbary falcon friends, Lucy and Mavro, visited the school to demonstrate falconry hunting game with falcons as part of the schools second Renaissance Festival, put on by the schools GATE program.

Dressed in renaissance costumes that ranged from authentic to hip-hop meets the middle ages the entire school participated in a festival that brought alive Shakespeares era and allowed the students a glimpse into the lives of people who lived long ago.

To participate the students had to dress in period costume for those students that wanted to participate but didn't have a costume teacher Carol Walton had a supply of make shift costumes. Others came in whatever might look right and fit or not.

'These shoes are killing me,' said 12-year-old Anthony Balbuena, looking down at his black loafers.

Anthony took the idea of dressing up seriously.

'I went on Google and then my sister helped me,' he said.

Boys typically wore vests, button up long sleeve shirts, pants rolled up with rubber bands to create a balloon effect. Some added accessories such as loose fitting belts. Flat slip-on shoes with dress socks completed the outfits.

Girls wore long flowing dresses of many layers with garlands in their hair.

Dressed for the part the students participated in numerous activities such as rounders similar to baseball, basket, jewelry and mask making, country dancing, puppet making and three interactive assemblies such as Shakespeare, pageantry and Queen Elizabeth.

Leading the activities were men and women from Presenters of Living History who kept students busy all day.

Initially, Andres Ramirez, 13, said he wasn't too sure of the entire concept and whether he would have fun.

He was surprised.

He sat on a bench and wove a long thin blue reed in circles as he began making a small basket.

Finished with the blue, and after some thought, Andres reached over to pull a long gold-colored reed from the batch of colorful reeds that hung from a tall metal pole.

'Its fun,' he said.

Reach Susan Winlow at 427-6955 or swinlow@dailyrepublic.net.


---
For more information send e-mail to

Home A Franz-To-Go Production