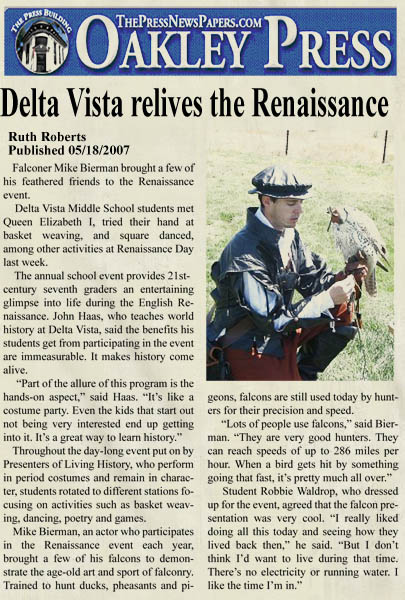 Published Oakley Press 05/18/2007 - 7:12 a.m.
Delta Vista relives the Renaissance
Ruth Roberts
Falconer Mike Bierman brought a few of his feathered friends to the Renaissance event.
Delta Vista Middle School students met Queen Elizabeth I, tried their hand at basket weaving, and square danced, among other activities at Renaissance Day last week.
The annual school event provides 21st-century seventh graders an entertaining glimpse into life during the English Renaissance. John Haas, who teaches world history at Delta Vista, said the benefits his students get from participating in the event are immeasurable. It makes history come alive.
"Part of the allure of this program is the hands-on aspect," said Haas. "It's like a costume party. Even the kids that start out not being very interested end up getting into it. It?s a great way to learn history."
Throughout the day-long event put on by Presenters of Living History, who perform in period costumes and remain in character, students rotated to different stations focusing on activities such as basket weaving, dancing, poetry and games.
Mike Bierman, an actor who participates in the Renaissance event each year, brought a few of his falcons to demonstrate the age-old art and sport of falconry.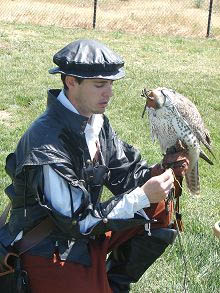 Trained to hunt ducks, pheasants and pigeons, falcons are still used today by hunters for their precision and speed.
"Lots of people use falcons,? said Bierman. ?They are very good hunters. They can reach speeds of up to 286 miles per hour. When a bird gets hit by something going that fast, it?s pretty much all over."
Student Robbie Waldrop, who dressed up for the event, agreed that the falcon presentation was very cool. "I really liked doing all this today and seeing how they lived back then," he said. "But I don't think I'd want to live during that time. There's no electricity or running water. I like the time I'm in."
---
For more information send e-mail to

Home A Franz-To-Go Production