Published on May 26, 2005, Page 25, Yucaipa News Mirror (Yucaipa, CA)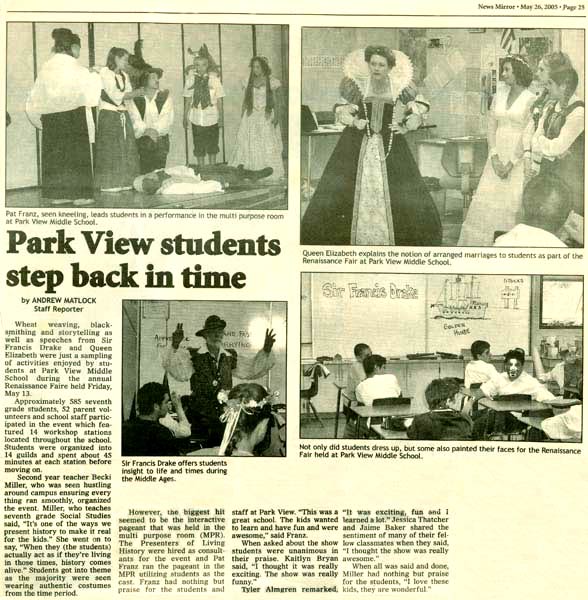 Park View students step back in time
By Andrew Matlock
Staff Reporter
Wheat weaving, blacksmithing and storytelling as well as speeches from Sir Francis drake and Queen Elizabeth were just a sampling of activities enjoyed by students at Park view Middle School during the annual Renaissance Faire held Friday, May 13.
Approximately 585 seventh grade students, 52 parent volunteers and school staff participated in the event which featured 14 workshops stations located throughout the school. Students were organized into 14 guilds and spent about 45 minutes at each station before moving on.
Second year teacher Becki Miller, who was seen hustling around campus ensuring every thing ran smoothly, organized the event. Miller, who teaches seventh grade Social Studies said, "It's one of the ways we present history to make it real for the kids." She went on to say, "When they (the students) actually act as if they're living in those times, history comes alive." Students got into theme as the majority were seen wearing authentic costumes from the time period.
However, the biggest h it seemed to be the interactie pageant that was held in the multi purpose room (MPR). The Presenters of Living History were hired as consultants for the event and Pat Franz ran the pageant in the MPR utilizing students as the cast. Franz had nothing but praise for the students and staff at Park View. "This was a great school. The kids wanted to learn and have fun and were awesome," said Franz.
When asked about the show students were unanimous in their praise. Kaitlyn Bryan said, "I thought it was really exciting. The show was really funny."
Tyler Almgren remarked, "It was exciting, fun and I leanred a lot." Jessica thatcher and Jaime Baker shared the sentiment of many of their fellow classmates when they said, "I thought the show was really awesome."
When all was said and done, Miller had nothing but praise for the students, "I love these kids, they are wonderful."
---
For more information send e-mail to

Home A Franz-To-Go Production