Published on May 19, 2006; The Reporter (Vacaville)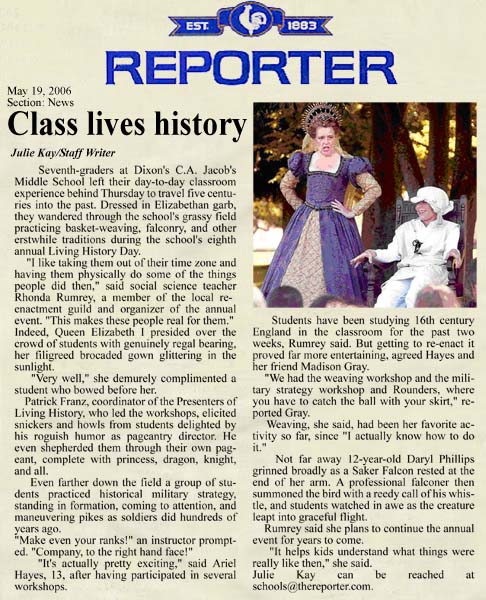 Section: News



Class lives history
Julie Kay/Staff Writer
Seventh-graders at Dixon's C.A. Jacob's Middle School left their day-to-day classroom experience behind Thursday to travel five centuries into the past. Dressed in Elizabethan garb, they wandered through the school's grassy field practicing basket-weaving, falconry, and other erstwhile traditions during the school's eighth annual Living History Day.
"I like taking them out of their time zone and having them physically do some of the things people did then," said social science teacher Rhonda Rumrey, a member of the local re-enactment guild and organizer of the annual event. "This makes these people real for them."
Indeed, Queen Elizabeth I presided over the crowd of students with genuinely regal bearing, her filigreed brocaded gown glittering in the sunlight.
"Very well," she demurely complimented a student who bowed before her.
Patrick Franz, coordinator of the Presenters of Living History, who led the workshops, elicited snickers and howls from students delighted by his roguish humor as pageantry director. He even shepherded them through their own pageant, complete with princess, dragon, knight, and all.
Even farther down the field a group of students practiced historical military strategy, standing in formation, coming to attention, and maneuvering pikes as soldiers did hundreds of years ago.
"Make even your ranks!" an instructor prompted. "Company, to the right hand face!"
"It's actually pretty exciting," said Ariel Hayes, 13, after having participated in several workshops.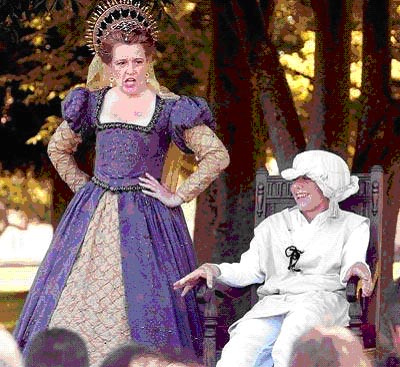 Students have been studying 16th century England in the classroom for the past two weeks, Rumrey said. But getting to re-enact it proved far more entertaining, agreed Hayes and her friend Madison Gray.
"We had the weaving workshop and the military strategy workshop and Rounders, where you have to catch the ball with your skirt," reported Gray.
Weaving, she said, had been her favorite activity so far, since "I actually know how to do it."
Not far away 12-year-old Daryl Phillips grinned broadly as a Saker Falcon rested at the end of her arm. A professional falconer then summoned the bird with a reedy call of his whistle, and students watched in awe as the creature leapt into graceful flight.
Rumrey said she plans to continue the annual event for years to come.
"It helps kids understand what things were really like then," she said.
Julie Kay can be reached at schools@thereporter.com.
---
For more information send e-mail to

Home A Franz-To-Go Production