Published on April 29, 2005; The Reporter (Vacaville)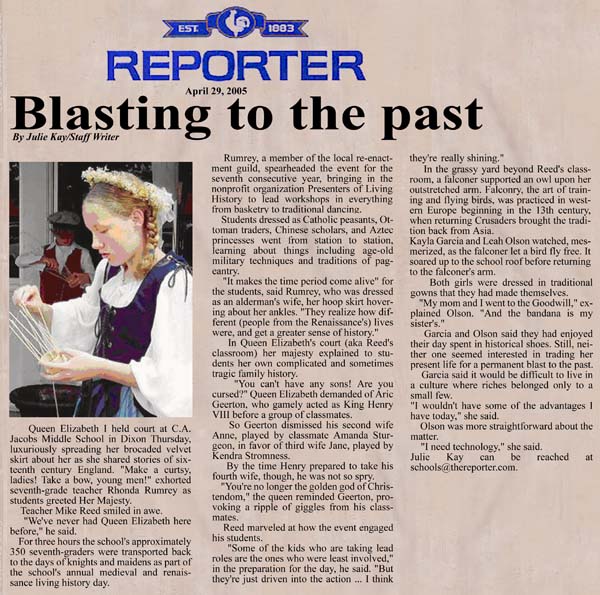 April 29, 2005


Blasting to the past
By Julie Kay/Staff Writer
Queen Elizabeth I held court at C.A. Jacobs Middle School in Dixon Thursday, luxuriously spreading her brocaded velvet skirt about her as she shared stories of sixteenth century England. "Make a curtsy, ladies! Take a bow, young men!" exhorted seventh-grade teacher Rhonda Rumrey as students greeted Her Majesty.
Teacher Mike Reed smiled in awe.
"We've never had Queen Elizabeth here before," he said.
For three hours the school's approximately 350 seventh-graders were transported back to the days of knights and maidens as part of the school's annual medieval and renaissance living history day.
Rumrey, a member of the local re-enactment guild, spearheaded the event for the seventh consecutive year, bringing in the nonprofit organization Presenters of Living History to lead workshops in everything from basketry to traditional dancing.
Students dressed as Catholic peasants, Ottoman traders, Chinese scholars, and Aztec princesses went from station to station, learning about things including age-old military techniques and traditions of pageantry.
"It makes the time period come alive" for the students, said Rumrey, who was dressed as an alderman's wife, her hoop skirt hovering about her ankles. "They realize how different (people from the Renaissance's) lives were, and get a greater sense of history."
In Queen Elizabeth's court (aka Reed's classroom) her majesty explained to students her own complicated and sometimes tragic family history.
"You can't have any sons! Are you cursed?" Queen Elizabeth demanded of Aric Geerton, who gamely acted as King Henry VIII before a group of classmates.
So Geerton dismissed his second wife Anne, played by classmate Amanda Sturgeon, in favor of third wife Jane, played by Kendra Stromness.
By the time Henry prepared to take his fourth wife, though, he was not so spry.
"You're no longer the golden god of Christendom," the queen reminded Geerton, provoking a ripple of giggles from his classmates.
Reed marveled at how the event engaged his students.
"Some of the kids who are taking lead roles are the ones who were least involved," in the preparation for the day, he said. "But they're just driven into the action ... I think they're
really shining."
In the grassy yard beyond Reed's classroom, a falconer supported an owl upon her outstretched arm. Falconry, the art of training and flying birds, was practiced in western Europe beginning in the 13th century, when returning Crusaders brought the tradition back from Asia.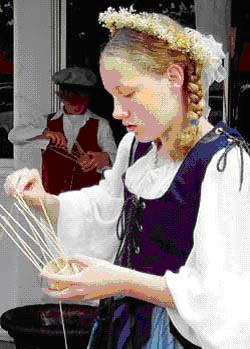 Kayla Garcia and Leah Olson watched, mesmerized, as the falconer let a bird fly free. It soared up to the school roof before returning to the falconer's arm.
Both girls were dressed in traditional gowns that they had made themselves.
"My mom and I went to the Goodwill," explained Olson. "And the bandana is my sister's."
Garcia and Olson said they had enjoyed their day spent in historical shoes. Still, neither one seemed interested in trading her present life for a permanent blast to the past.
Garcia said it would be difficult to live in a culture where riches belonged only to a small few.
"I wouldn't have some of the advantages I have today," she said.
Olson was more straightforward about the matter.
"I need technology," she said.
Julie Kay can be reached at schools@thereporter.com.
---
For more information send e-mail to

Home A Franz-To-Go Production