Published on May 29, 2004; The Reporter (Vacaville)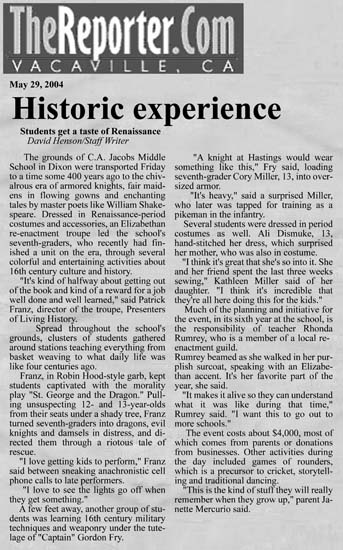 Section: News

Historic experience
Students get a taste of Renaissance
David Henson/Staff Writer
The grounds of C.A. Jacobs Middle School in Dixon were transported Friday to a time some 400 years ago to the chivalrous era of armored knights, fair maidens in flowing gowns and enchanting tales by master poets like William Shakespeare. Dressed in Renaissance-period costumes and accessories, an Elizabethan re-enactment troupe led the school's seventh-graders, who recently had finished a unit on the era, through several colorful and entertaining activities about 16th century culture and history.
"It's kind of halfway about getting out of the book and kind of a reward for a job well done and well learned," said Patrick Franz, director of the troupe, Presenters of Living History.
Spread throughout the school's grounds, clusters of students gathered around stations teaching everything from basket weaving to what daily life was like four centuries ago.
Franz, in Robin Hood-style garb, kept students captivated with the morality play "St. George and the Dragon." Pulling unsuspecting 12- and 13-year-olds from their seats under a shady tree, Franz turned seventh-graders into dragons, evil knights and damsels in distress, and directed them through a riotous tale of rescue.
"I love getting kids to perform," Franz said between sneaking anachronistic cell phone calls to late performers.
"I love to see the lights go off when they get something."
A few feet away, another group of students was learning 16th century military techniques and weaponry under the tutelage of "Captain" Gordon Fry.
"A knight at Hastings would wear something like this," Fry said, loading seventh-grader Cory Miller, 13, into oversized armor.
"It's heavy," said a surprised Miller, who later was tapped for training as a pikeman in the infantry.
Several students were dressed in period costumes as well. Ali Dismuke, 13, hand-stitched her dress, which surprised her mother, who was also in costume.
"I think it's great that she's so into it. She and her friend spent the last three weeks sewing," Kathleen Miller said of her daughter. "I think it's incredible that they're all here doing this for the kids."
Much of the planning and initiative for the event, in its sixth year at the school, is the responsibility of teacher Rhonda Rumrey, who is a member of a local re-enactment guild.
Rumrey beamed as she walked in her purplish surcoat, speaking with an Elizabethan accent. It's her favorite part of the year, she said.
"It makes it alive so they can understand what it was like during that time," Rumrey said. "I want this to go out to more schools."
The event costs come from parents or donations from businesses. Other activities during the day included games of rounders, which is a precursor to cricket, storytelling and traditional dancing.
"This is the kind of stuff they will really remember when they grow up," parent Janette Mercurio said.
---
For more information send e-mail to

Home A Franz-To-Go Production