Published on Sunday, May 1, 2005, Page ?, The Davis Enterprise (CA)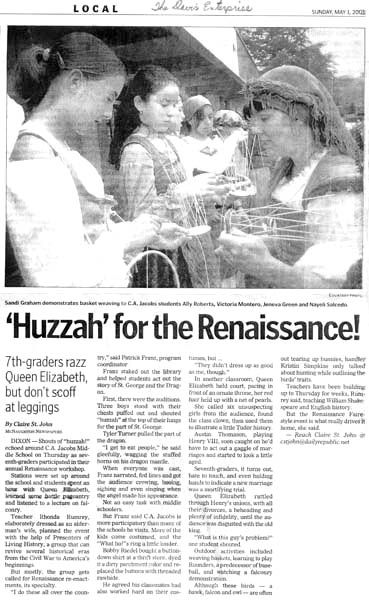 'Huzzah' for the Renaissance!
7th-graders razz Queen Elizabeth, but don't scoff at leggings
By Claire St. John
McNaughton Newspapers
DIXON -- Shouts of "huzzah!" echoed around C.A. Jacobs Middle School on Thursday as seventh-graders participated in their annual Renaissance workshop.
Stations were set up around the school and students spent an hour with Queen Elizabeth, learned some battle pageantry and listened to a lecture on falconry.
Teacher Rhonda Rumrey, elaborately dressed as an alderman's wife, planned the event with the help of Presenters of Living History, a group that can revive several historical eras from the Civil War to America's beginnings.
But mostly, the group gets called for Renaissance re-enactments, its specialty.
"I do these all over the country," said Patrick Franz, program coordinator.
Franz staked out the library and helped students act out the story of St. George and the Dragon.
First, there were the auditions. Three boys stood with their chests puffed out and shouted "huzzah" at the top of their lungs for the part of St. George.
Tyler Turner pulled the part of the dragon.
"I get to eat people," he said gleefully, wagging the stuffed horns on his dragon mantle.
When everyone was cast, Franz narrated, fed lines and got the audience crowing, booing, sighing and even singing when the angel made his appearance.
Not an easy task with middle schoolers.
But Franz said C.A. Jacobs is more participatory than many of the schools he visits. More of the kids come costumed, and the "What ho!"s ring a little louder.
Bobby Riedel bought a button-down shirt at a thrift store, dyed it a dirty parchment color and replaced the buttons with threaded rawhide.
He agreed his classmates had also worked hard on their costumes, but ...
"The didn't dress up as good as me, though."
In another classroom, Queen Elizabeth held court, placing in front of an ornate throne, her red hair held up with a net of pearls.
She called six unsuspecting girls from the audience, found the class clown, then used them to illustrate a little Tudor history.
Austin Thomason, playing Henry VIII, soon caught on he'd have to act out a gaggle of marriages and started to look a little aged.
Seventh-graders, it turns out, hate to touch, and even holding hands to indicate a new marriage was a mortifying trial.
Queen Elizabeth rattled through Henry's unions, with all their divorces, a beheading and plenty of infidelity, until the audience was disgusted with the old king.
"What's this guy's problem?" one student shouted.
Outdoor activities included weaving baskets, learning to play Rounders, a predecessor of baseball, and watching a falconry demonstration.
Although these birds -- a hawk, falcon and owl -- are often out tearing up bunnies, handler Kristin Simpkins only talked about hunting while outlining the birds' traits.
Teachers have been building up to Thursday for weeks, Rumrey said, teaching William Shakespeare and English history.
But the Renaissance Faire-style event is what really drives it home, she said.
---
For more information send e-mail to

Home A Franz-To-Go Production