Published on Sunday, December 5, 2004, Page c05, Contra Costa Times (Walnut Creek, CA)
Concord actor enjoys faire-ly fun career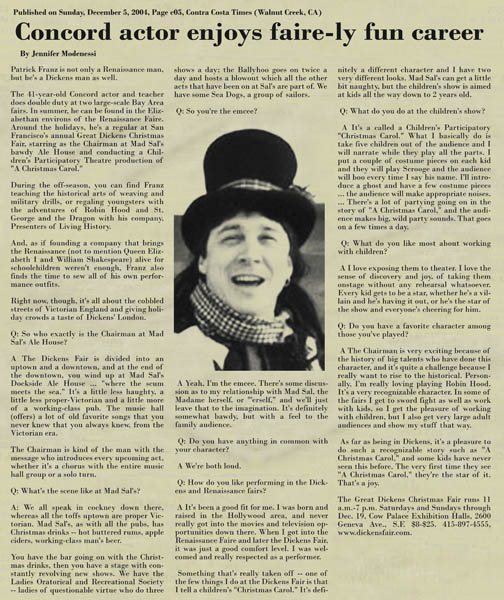 By Jennifer Modenessi
Patrick Franz is not only a Renaissance man, but he's a Dickens man as well.
The 41-year-old Concord actor and teacher does double duty at two large-scale Bay Area fairs. In summer, he can be found in the Elizabethan environs of the Renaissance Faire. Around the holidays, he's a regular at San Francisco's annual Great Dickens Christmas Fair, starring as the Chairman at Mad Sal's bawdy Ale House and conducting a Children's Participatory Theatre production of "A Christmas Carol."
During the off-season, you can find Franz teaching the historical arts of weaving and military drills, or regaling youngsters with the adventures of Robin Hood and St. George and the Dragon with his company, Presenters of Living History.
And, as if founding a company that brings the Renaissance (not to mention Queen Elizabeth I and William Shakespeare) alive for schoolchildren weren't enough, Franz also finds the time to sew all of his own performance outfits.
Right now, though, it's all about the cobbled streets of Victorian England and giving holiday crowds a taste of Dickens' London.
Q: So who exactly is the Chairman at Mad Sal's Ale House?
A The Dickens Fair is divided into an uptown and a downtown, and at the end of the downtown, you wind up at Mad Sal's Dockside Ale House ... "where the scum meets the sea." It's a little less haughty, a little less proper-Victorian and a little more of a working-class pub. The music hall (offers) a lot of old favorite songs that you never knew that you always knew, from the Victorian era.
The Chairman is kind of the man with the message who introduces every upcoming act, whether it's a chorus with the entire music hall group or a solo turn.
Q: What's the scene like at Mad Sal's?
A: We all speak in cockney down there, whereas all the toffs uptown are proper Victorian. Mad Sal's, as with all the pubs, has Christmas drinks -- hot buttered rums, apple ciders, working-class man's beer.
You have the bar going on with the Christmas drinks, then you have a stage with constantly revolving new shows. We have the Ladies Oratorical and Recreational Society -- ladies of questionable virtue who do three shows a day; the Ballyhoo goes on twice a day and hosts a blowout which all the other acts that have been on at Sal's are part of. We have some Sea Dogs, a group of sailors.
Q: So you're the emcee?
A Yeah, I'm the emcee. There's some discussion as to my relationship with Mad Sal, the Madame herself, or "'erself," and we'll just leave that to the imagination. It's definitely somewhat bawdy, but with a feel to the family audience.
Q: Do you have anything in common with your character?
A We're both loud.
Q: How do you like performing in the Dickens and Renaissance fairs?
A It's been a good fit for me. I was born and raised in the Hollywood area, and never really got into the movies and television opportunities down there. When I got into the Renaissance Faire and later the Dickens Fair, it was just a good comfort level. I was welcomed and really respected as a performer.
Something that's really taken off -- one of the few things I do at the Dickens Fair is that I tell a children's "Christmas Carol." It's definitely a different character and I have two very different looks. Mad Sal's can get a little bit naughty, but the children's show is aimed at kids all the way down to 2 years old.
Q: What do you do at the children's show?
A It's a called a Children's Participatory "Christmas Carol." What I basically do is take five children out of the audience and I will narrate while they play all the parts. I put a couple of costume pieces on each kid and they will play Scrooge and the audience will boo every time I say his name. I'll introduce a ghost and have a few costume pieces ... the audience will make appropriate noises. ... There's a lot of partying going on in the story of "A Christmas Carol," and the audience makes big, wild party sounds. That goes on a few times a day.
Q: What do you like most about working with children?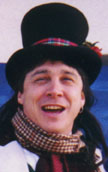 A I love exposing them to theater. I love the sense of discovery and joy, of taking them onstage without any rehearsal whatsoever. Every kid gets to be a star, whether he's a villain and he's having it out, or he's the star of the show and everyone's cheering for him.
Q: Do you have a favorite character among those you've played?
A The Chairman is very exciting because of the history of big talents who have done this character, and it's quite a challenge because I really want to rise to the historical. Personally, I'm really loving playing Robin Hood. It's a very recognizable character. In some of the fairs I get to sword fight as well as work with kids, so I get the pleasure of working with children, but I also get very large adult audiences and show my stuff that way.
As far as being in Dickens, it's a pleasure to do such a recognizable story such as "A Christmas Carol," and some kids have never seen this before. The very first time they see "A Christmas Carol," they're the star of it. That's a joy.
The Great Dickens Christmas Fair runs 11 a.m.-7 p.m. Saturdays and Sundays through Dec. 19, Cow Palace Exhibition Halls, 2600 Geneva Ave., S.F. $8-$25. 415-897-4555, www.dickensfair.com.
---
For more information send e-mail to

Home A Franz-To-Go Production