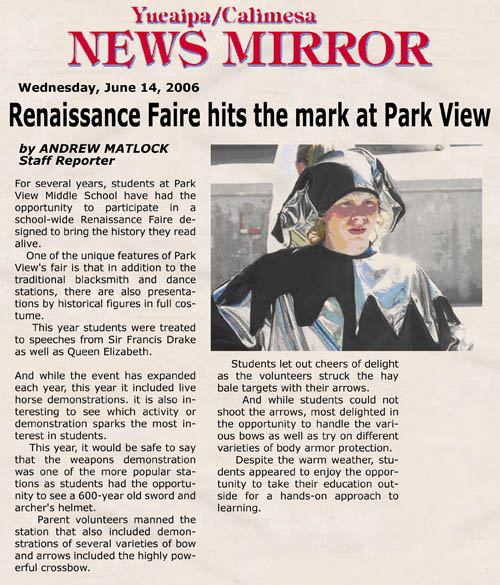 Updated: Wednesday, June 14, 2006 4:30 PM PDT
Renaissance Faire hits the mark at Park View
by ANDREW MATLOCK
Staff Reporter


For several years, students at Park View Middle School have had the opportunity to participate in a school-wide Renaissance Faire designed to bring the history they read alive.
One of the unique features of Park View's fair is that in addition to the traditional blacksmith and dance stations, there are also presentations by historical figures in full costume.
This year students were treated to speeches from Sir Francis Drake as well as Queen Elizabeth.

And while the event has expanded each year, this year it included live horse demonstrations. it is also interesting to see which activity or demonstration sparks the most interest in students.
This year, it would be safe to say that the weapons demonstration was one of the more popular stations as students had the opportunity to see a 600-year old sword and archer's helmet.
Parent volunteers manned the station that also included demonstrations of several varieties of bow and arrows included the highly powerful crossbow.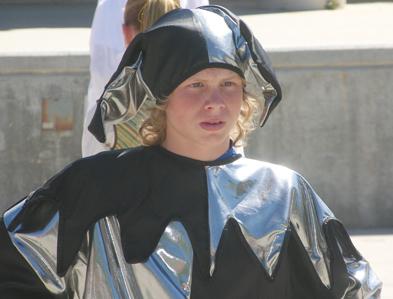 Students let out cheers of delight as the volunteers struck the hay bale targets with their arrows.
And while students could not shoot the arrows, most delighted in the opportunity to handle the various bows as well as try on different varieties of body armor protection.
Despite the warm weather, students appeared to enjoy the opportunity to take their education outside for a hands-on approach to learning.

---
For more information send e-mail to

Home A Franz-To-Go Production