Patrick Franz
Education
Entertainment

Renaissance & General
American Civil War
Students Say...
News
Our History
St. George & the Dragon

Resume
St. George & the Dragon
Robin Hood
Jack Is Back!
News
Published on November 6, 2006, Page 5, The Round Up (Las Cruces, NM)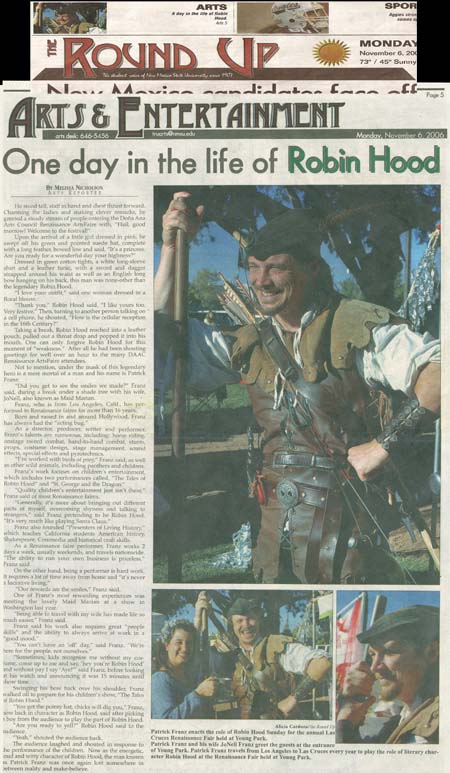 One day in the life of Robin Hood
By: MELISSA NICHOLSON ARTS REPORTER
He stood tall, staff in hand and chest thrust forward. Charming the ladies and making clever remarks, he greeted a steady stream of people entering the Dona Ana Arts Council Renaissance ArtsFaire with, "Hail, good morrow! Welcome to the festival!"
Upon the arrival of a little girl dressed in pink, he swept off his green and pointed suede hat, complete with a long feather, bowed low and said, "It's a princess. Are you ready for a wonderful day your highness?" .
Dressed in green cotton tights, a white long-sleeve shirt and a leather tunic, with a sword and dagger strapped around his waist as well as an English long bow hanging on his back, this man was none-other than the legendary Robin Hood.
"1 love your outfit," said one woman dressed in a floral blouse.
"Thank you," Robin Hood said. "1 like yours too. Very festive." Then, turning to another person talking on a cell phone, he shouted, "How is the cellular reception in the 16th Century?"
Taking a break, Robin Hood reached into a leather pouch, pulled out a throat drop and popped it into his mouth. One can only forgive Robin Hood for this moment of "weakness." After all he had been shouting greetings for well over an hour to the many DAAC Renaissance ArtsFaire attendees. .
Not to mention, under the mask of this legendary hero is a mere mortal of a man and his name is Patrick Franz.
"Did you get to see the smiles we made?" Franz said, during a break under a shade tree with his wife, JoNell, also known as Maid Marian.
Franz, who is from Los Angeles, Calif., has per­formed in Renaissance faires for more than 16 years.
Born and raised in and around Hollywood, Franz has always had the "acting bug."
As a director, producer, writer and performer, Franz's talents are numerous, including: horse riding, onstage sword combat, hand-to-hand combat, stunts, props, costume design, stage management, sound effects, special effects and pyrotechnics.
"I've worked with birds of prey," Franz said, as well as other wild animals, including panthers and children.
Franz's work focuses on children's entertainment, which includes two performances called, "The Tales of Robin Hood" and "St. George and the Dragon."
"Quality children's entertainment just isn't there," Franz said of most Renaissance faires.
"Generally, it's more about bringing out different parts of myself, overcoming shyness and talking to strangers," said Franz pretending to be Robin Hood. "It's very much like playing Santa Claus."
Franz also founded "Presenters of Living History," which teaches California students American history, Shakespeare, Commedia and historical craft skills.
As a Renaissance faire performer, Franz works 2 days a week, usually weekends, and travels nationwide. "The ability to run your own business is priceless," Franz said.
On the other hand, being a performer is hard work. It requires a lot of time away from home and "it's never' a lucrative living."
"Our rewards are the smiles," Franz said.
One of Franz's most rewarding experiences was meeting the lovely Maid Marian at a show in Washington last year.
"Being able to travel with my wife has made life so much easier," Franz said.
Franz said his work also requires great "people skills" and the ability to always arrive at work in a "good mood."
"You can't have an 'off' day," said Franz. "We're here for the people, not ourselves."
"Sometimes, kids recognize me without my cos­tume, come up to me and say, 'hey you're Robin Hood' and without pay I say' Aye!'" said Franz, before looking at his watch and announcing it was 15 minutes, until show time.
Swinging his bow back over his shoulder, Franz walked off to prepare for his children's show, "The Tales of Robin Hood."
"You get the pointy hat, chicks will dig you," Franz, now back in character as Robin Hood, said after picking a boy from the audience to play the part of Robin Hood.
"Are you ready to yell?" Robin Hood said to the audience.
"Yeah," shouted the audience back.
The audience laughed and shouted in response to the performance of the children. Now as the energetic, loud and witty character of Robin Hood, the man known is Patrick Franz was once again lost somewhere in between reality and make-believe.
Photos By Alicia Cardoza/the
Round Up
Patrick Franz enacts the role of Robin Hood Sunday for the annual Las Cruces Renaissance Fair held at Young Park. Patrick Franz and his wife JoNell Franz greet the guests at the entrance of Young Park. Patrick Franz travels from Los Angeles to Las Cruces every year to play the role of literary character Robin Hood at the Renaissance Fair held at Young Park. .
---
For more information send e-mail to

Home A Franz-To-Go Production